How to solve issues while installing macOS Catalina or what to do if you can't install macOS Catalina?
---
Everyone running on macOS High Sierra or earlier version of macOS wants to upgrade their OS to the latest macOS Catalina. You want to upgrade to Catalina easily but you may face some issues.
You've unpacked the installer and started installing macOS Catalina but now the install is stuck on the initial reboot. All you can see is a black screen and even a hard reboot doesn't help it anyhow. Though it's perfectly normal for an installation of macOS Catalina to take some time (sometimes up to 9 hours), you can try a few workarounds.
Try Installing macOS Catalina in the Safe Mode
Press and hold down the Power button to shut down your Mac.
Now, hold down Shift while it's booting up and press the Power button again.

You will see the Apple logo on a grayish background with a progress bar. You are now entering into safe mode. Once you have entered into the Safe mode, run the Catalina installer again. It should reach completion this time.
Do a SMC and PRAM Reset
Restoring deep system settings including kernel information can be of help sometimes. It isn't something you should be doing regularly but in our case where installing macOS Catalina is stucking, it's worth trying.
How to reset SMC
1. Shutdown you Mac
2. Hold down Control + Shift + Option buttons together and then press power button to switch on you Mac.
3. Hold these buttons for 10-15 seconds
4. Release these buttons and restart your Mac
How to reset PRAM
1. Shutdown you Mac
2. Press the Power button
3. Immediately press Command + Option + P + R keys all-together
4. Hold down the keys until your Mac reboots
5. Release these keys

After you're done, restart installation  for macOS Catalina from beginning.
Free up space on your drive
macOS Catalina takes up about 30 GB on your drive. Sounds too much? When you see the "macOS Catalina cannot be installed on Macintosh HD" message, this may sometimes mean that there is not enough disk space for installing the new macOS. Therefore, you need to free up some space on your Mac's hard drives.
How to free up space on your Mac?
Find and Move your largest files onto an external drive — will take you few minutes.  You may use Wise Mac Care to find large files on your Mac with a simple scan as looking of Large files manually may be a tedious job. Or if it looks like too much fuss, you may try freeing up your storage with Wise Mac Care. Wise Mac Care is a complete Mac Maintenance application that is actually notarized by Apple (shouldn't be confused with MacKeeper or CleanMyMac X).
You'll easily remove 9-11 GBs of system junk and wanted garbage files form your Mac using Wise Mac Care. Once you have removed unwanted Junk from your Mac, you may try  installing macOS Catalina on a drive that's clean and refreshed.
Here we've found a link to a free version of this app — enjoy.
Installation of macOS Catalina stuck on "Setting up your Mac" screen
If your installation of macOS Catalina has started well but seems to be stuck on the initial screen and your patience has finally run out, it's time for a mission abort and try something different.
Press the power button and hold it like that till your Mac reboots.
Start the installation for macOS Catalina all over again — this time it should go fine without getting stuck anywhere.
What if you are seeing error – macOS Catalina could not be verified
Usually this error comes when the download has just finished. Apparently, the os has something to do with downloaded cached content associated with your user account.
Open System Preferences > Sharing > Content caching
Select "All content`' in the drop-down menu against "Cache"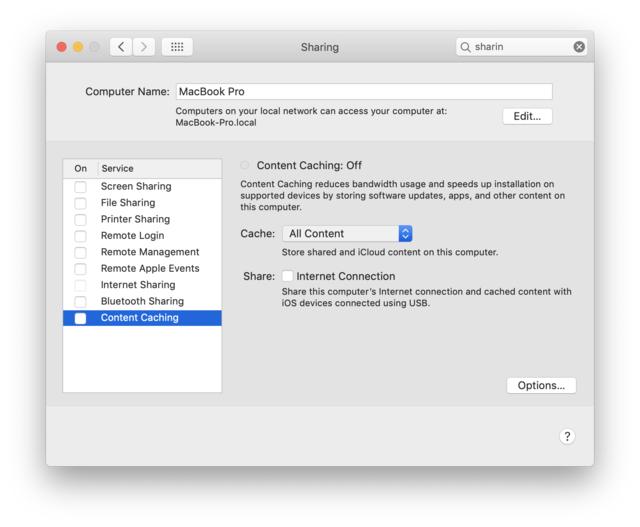 Retry downloading macOS Catalina. It is quite possible that the first attempt to download Catalina may return the same error. But before giving up try downloading Catalina once again —  this time it will download it from the cached copy on your Mac which will just take a few seconds.
In worst case, If it doesn't help you can also try:
Restarting your Mac simply
Downloading macOS Catalina under different "user" on your Mac
You may try to delete system cache with Wise Mac Care.